NoonBrew
December 13, 2022
Turmeric: The Golden Powder With Golden Health Benefits
Turmeric is a spice that can add a golden color to your recipes and provides a unique bitter taste that is reminiscent of ginger and citrus. It is most commonly used in curries and can be found in many other savory dishes as well.

While turmeric may be known for its yellow coloring, it is also a powerful herb and spice that can boost overall health and wellness. Let's take a closer look into turmeric ahead.
What is Turmeric?
Turmeric is a popular plant used as a spice in cooking.  It belongs to the ginger family and is cultivated in Southeast Asia and popular in Indian cuisine.  When used in the culinary industry, it gives off a distinct yellow coloring that is widely seen in Asian and Indian foods.  The main chemical in turmeric that's responsible for its health benefits is called curcumin. We'll be talking a lot about it in this article!
What is Turmeric Used For?
As we've covered, the most popular use of turmeric is cooking. It's a widely used spice. You'll see it used in curry meals, mustards, butter, and cheese, to name a few. In addition to being popular in culinary applications, this spice has quite the reputation in the health and wellness world. You've probably seen turmeric supplements sold at just about any grocery store you visit.
Health Benefits of Turmeric
1. Reduces Inflammation
One of the most widely known benefits of turmeric is its ability to reduce inflammation. Studies have shown that the curcuminoids in turmeric have anti-inflammatory properties [1], suggesting it could be used to treat inflammation-related conditions, such as arthritis, inflammatory bowel problems, cancer, metabolic disorders, and skin irritation.
2. A Powerful Antioxidant
Another reason to start taking more turmeric is for all of its antioxidants. Turmeric's free-radical blocking mechanism might be crucial for the prevention of neurodegenerative issues, cardiovascular issues, and possibly even cancer.[2]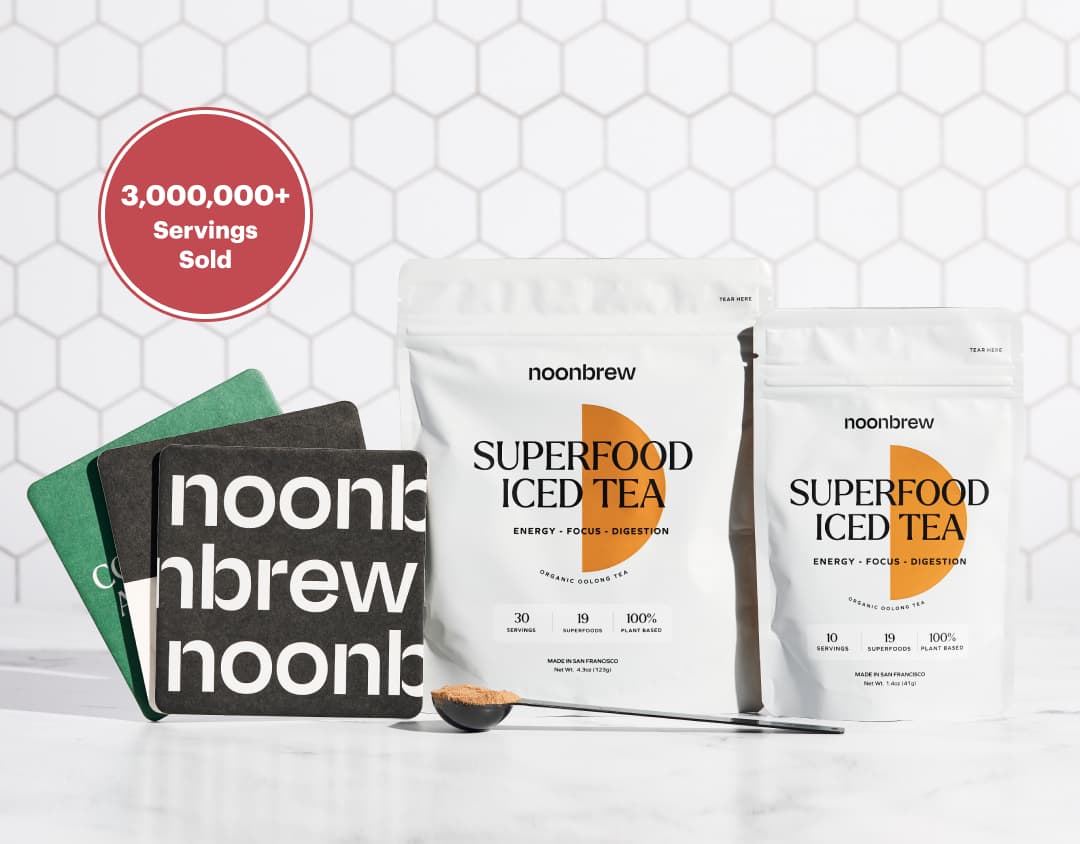 Your New Afternoon Ritual
★★★★★ 
Reviews from 30,000+ Customers 
Get all of the benefits of turmeric and more in NoonBrew. We included oolong tea and white tea along with 19 superfoods to help your energy, focus, digestion, and more.
3. Fights Against Alzheimer's, Anxiety and Various Mental Health Conditions
Turmeric is a powerful chemical that affects certain disease progressions.  For example, curcumin's effects on Beta-amyloid plaques in the brain help to slow or delay the breakdown of nerve cells in the brain and decrease memory loss [3]. There was even a study on obese individuals that measured turmeric's ability to treat anxiety and depression. While there were no significant results for depression, the study tracked an anxiety related metric called the Beck Anxiety Inventory and found significant improvements.
4. Beneficial Effects on Heart Health.  
Curcumin, the main component of turmeric, may have beneficial effects on heart health.  Studies have shown that the anti-inflammatory properties of curcumin might play a role in preventing atrial arrhythmias [4], also known as irregular heartbeats.
How to Take Turmeric and Dosage Information
While the most natural way to start taking turmeric is simply by spicing up your homemade dishes, not everyone likes the flavor of turmeric and it might be a challenge to reach your desired dosage. For that resason, turmeric capsules are a popular way to consume a measured dose of the spice regularly. In addition, turmeric also comes in the form of tea for a refreshing and enhancing taste to boost your day. 
Brewing a Turmeric Tea? Here's What Else You Should Add:
You want to boost your turmeric intake so why not take a delicious, natural route like a hot cup of tea! The base of your tea is hot water and a teaspoon of turmeric. From there, it's up to you where you want to take it. For flavoring, try adding honey, cinnamon, and/or milk. Add a pinch of black pepper to increase the effectiveness of the curcumin (we'll talk about this in just a bit). You could stop here, but we like to take it to the next level by adding additional superfoods.
We're starting to build a laundry list of teas to brew, aren't we? Well, actually there's one tea that includes just about all of these superfoods and many more. It's called NoonBrew. This 30-second tea powder powered by 19 superfoods is designed to help you power through the afternoon with a calm focus and a third of the amount of caffeine as a cup of coffee.
There's varying information on the amount of turmeric to take per day. A notable 2001 study had patients take 12 grams of turmeric per day[5]. 5 grams of turmeric is around 1.5 teaspoons. One other recommendation is from the European Food Safety Authority which recommends taking 3 milligrams per kilogram of bodyweight (That's a little more than 6.5 milligrams per pound).
Tip: Consume black pepper with turmeric to increase your body's ability to absorb turmeric's curcuminoids. The piperine in black pepper has shown to increase turmeric's bioavailability by 2,000%.[6]
There are a few factors at play that make it difficult to recommend the amount of turmeric to consume. First, as we've mentioned, black pepper could greatly increase the effectiveness of turmeric meaning that you can take less to get the same results. Secondly, turmeric powder around 2% curcumin but there are some brands with a different percentage.
Summary
The anti-inflammatory and anti-oxidative properties of turmeric are key to its health benefits. It has potential to treat conditions like arthritis, help manage anxiety, and increase muscle recovery time.[6] Many people know that turmeric is healthy in one way or another but now you know exactly why. You also know that curcumin is the prime substance that makes turmeric such an amazing superfood.
References
Jurenka, J. (2009). Anti-inflammatory properties of curcumin, a major constituent of Curcuma longa: a review of preclinical and clinical research. Altern Med Rev., issue 14 (2), 141-53. https://pubmed.ncbi.nlm.nih.gov/19594223/
Menon, VP; Sudheer, AR. (2007). Antioxidant and anti-inflammatory properties of curcumin. Adv Exp Med Biol, 595:105-25. https://pubmed.ncbi.nlm.nih.gov/17569207/
Mishra, S; Palanivelu, K. (2008). The effect of curcumin (turmeric) on Alzheimer's disease: An overview. Ann Indian Acad Neurology, 11(1): 13-9. https://pubmed.ncbi.nlm.nih.gov/19966973/
Wongcharoes, W; Phrommintikul, A. (2009). The protective role of curcumin in cardiovascular diseases. Int J Cardiol., 133 (2): 145-51. https://pubmed.ncbi.nlm.nih.gov/19233493/
Sharifi-Rad, J; Rayess, YE; Rizk, AA. (2020). Turmeric and Its Major Compound Curcumin on Health: Bioactive Effects and Safety Profiles for Food, Pharmaceutical, Biotechnological and Medicinal Applications. Front Pharmacol, 11: 01021. https://www.ncbi.nlm.nih.gov/pmc/articles/PMC7522354/
Hewlings, S. J., & Kalman, D. S. (2017, October 22). Curcumin: A review of its effects on human health. Foods (Basel, Switzerland). Retrieved December 1, 2022, from https://www.ncbi.nlm.nih.gov/pmc/articles/PMC5664031/
Esmaily H;Sahebkar A;Iranshahi M;Ganjali S;Mohammadi A;Ferns G;Ghayour-Mobarhan M; (n.d.). An investigation of the effects of curcumin on anxiety and depression in obese individuals: A randomized controlled trial. Chinese journal of integrative medicine. Retrieved December 1, 2022, from https://pubmed.ncbi.nlm.nih.gov/25776839
Scientific opinion on the re‐evaluation of curcumin (E 100) as … – EFSA. (n.d.). Retrieved December 1, 2022, from https://efsa.onlinelibrary.wiley.com/doi/abs/10.2903/j.efsa.2010.1679