NoonBrew
October 26, 2022
What Is Ginger? 5 Incredible Benefits That Will Make You Want To Consume It Daily
Ginger has been used for centuries not only for its phenomenal spicy-yet-zesty taste, but also as a natural medicine. This root has a rich history in China and India that dates back thousands of years.[1] In this article, we will explore its origins, uses, and scientifically-backed benefits.
What is Ginger?
Ginger is a plant whose root is commonly used as a spice and a key ingredient in traditional medicine. Originating in Southeast Asia, ginger is widely used for a variety of food items ranging from vegetables to alcoholic beverages.[2] 
Ginger is a common ingredient of Indian, Chinese, Korean, Japanese and Vietnamese recipes. The juice is also used in flavoring seafood, meat and vegetarian dishes in South Asian cuisine.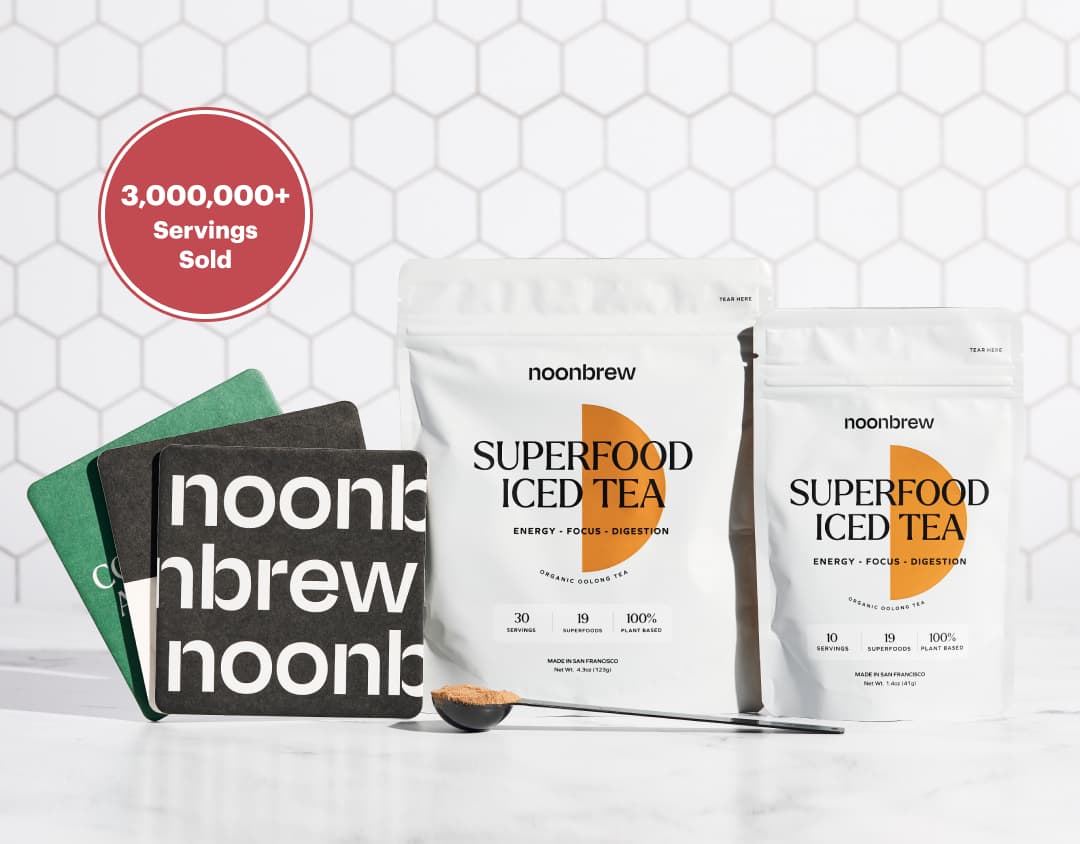 Your New Afternoon Ritual
★★★★★ 
Reviews from 30,000+ Customers 
Get all of the benefits of ginger and more in NoonBrew. We included oolong tea and white tea along with 19 superfoods to help your energy, focus, digestion, and more.
The Benefits of Ginger
Relieving Nausea and Vomiting
One 2016 article by the scientific journal 'Integr Med Insights' determined that dried ginger was considered to be the most effective in preventing nausea and vomiting followed by fresh ginger and then powdered ginger tea. It concluded that this wonderful root is an inexpensive yet very safe and effective way to treat nausea.[4]
Several institutions such as Obstetrics and Gynecology, American Journal of Obstetrics, and Integrated Cancer Therapy performed studies on thousands of patients who suffered from nausea. In all studies the group of patients that consumed ginger saw reduced nauseousness compared to the placebo group.[13][14][15]
Improving digestion
Some studies have shown that ginger may help to speed up the digestive process in the body by increasing the movement of food through the intestinal tract.[5] The effects of ginger may also help to prevent constipation and reduce gas.[5]
Strengthening the Immune System
A 2017 study suggested that daily consumption of ginger may strengthen the immune system and help protect the body against chronic disease.[6] 
Another study done in 2019 on the effects of ginger extract on smokers and nonsmokers showed that daily intake of ginger extract led to a stronger antibody response in nonsmokers.[7]
Pain Relief
Ginger contains a substance known as gingerol which may help relieve pain including pain associated with menstruation.[8]
Preventing Cancer
Ginger is a source of high levels of antioxidants, which are substances that help reduce the amount of damage in the body leading to conditions like cancer. 
A 2015 research review indicates that ginger may help prevent cancers of the digestive system including stomach cancer, liver cancer and cancer of the colon and pancreas.[9]
It may also help with weight loss and increase the level of "good" cholesterol (HDL-cholesterol) in the body.[10]
How to Consume Ginger
Ginger is best consumed in its natural form. When you take raw ginger on an empty stomach, its benefits are more effective due to faster intestinal absorption. 
Did you know you could consume ginger in tea form?
While you can take ginger raw, in supplements, or include it in your cooking, here's a happy (and delicious!) medium that's fast and convenient. Drinking it in a tea that takes seconds to make. NoonBrew tea is an excellent and convenient way to consume ginger daily. It contains 19 superfoods (including ginger), that provide natural energy, improved digestion and more. Make it your new afternoon ritual and watch it power you through the rest of the day!
Taking ginger this way quickly settles an upset stomach and improves digestion.[12] According to the Food and Drug Administration (FDA), a daily intake of ginger root of up to 4g is considered safe.[1] Ginger can also be taken in the form of a tea. It can be prepared by boiling cut pieces of ginger in water for a few minutes.[11] 
Summary
Whether you're using it as an ingredient in your next stir fry, swallowing it in capsule form, or drinking it as a tea in your hyper-productive afternoon ritual, ginger is an incredible superfood to add to your diet. As we've covered, it has wonderful benefits for your immune system, digestion and overall health.
References
Nguyen H. A. (2020). Ginger on Human Health: A Comprehensive Systematic Review of 109 Randomized Controlled Trials. Nutrients. 2020 Jan; 12(1): 157. 
Ravindran P.N. and Babu K. N. (2016). Introduction. Ginger. CRC Press, pp. 16-29.  
Lee J. and Oh H. (2013). Ginger as an antiemetic modality for chemotherapy-induced nausea and vomiting: A systematic review and meta-analysis. Oncol. Nurs. Forum. 40 (2): 163–170.
Lete I. and Allue J. (2016). The Effectiveness of Ginger in the Prevention of Nausea and Vomiting during Pregnancy and Chemotherapy. Sage Journals March 21, 2016. 
Bodagh M.N. et al (2018). Ginger in gastrointestinal disorders: A systematic review of clinical trials. Food Science & Nutrition/ Volume 7, Issue 1/ p. 96-108.
Wang Y. et al (2017). Evaluation of daily ginger consumption for the prevention of chronic diseases in adults: A cross sectional study. Nutrition 2017 Apr;36:79-84. doi: 10.1016/j.nut.2016.05.009. Epub 2016 Jun 3
Mahassni S.H. & Bukhari O. A. (2018). Beneficial effects of an aqueous ginger extract on the immune system cells and antibodies, hematology and thyroid hormones in male smokers and non-smokers. Journal of Nutrition and Intermediary Metabolism. Vol. 15. March 2019, Pages 10- 17.
Chen C. X. et al (2016). Efficacy of oral ginger (Zingiber officinale) for dysmenorrhea: a systematic review and meta-analysis. Evidence-based alternative and complementary medicine. Hindawi. Volume 2016.
Prasad S. and Tyagi A.K. (2015). Ginger and its constituents: role in prevention and treatment of gastrointestinal cancer. Gastroenterol Res Pract. 2015; 2015: 142979. Published online 2015 Mar 8.
Maharlouei N. et al. (2019). "The effects of ginger intake on weight loss and metabolic profiles among overweight and obese subjects: A systematic review and meta-analysis of randomized controlled trials". Critical Reviews in Food Science and Nutrition. 59 (11): 1753–1766.
Villines Z. (2018). What to know about ginger for diarrhea. Medical News Today. January 8, 2018. https://www.medicalnewstoday.com/articles/320546
The Turmeric Co. (2022). Can you take a ginger shot on an empty stomach? The Root. https://theturmeric.co/blogs/the-root/can-you-take-a-ginger-shot-on-an-empty-stomach
Borrelli F, Capasso R, Aviello G, Pittler MH, Izzo AA. Effectiveness and safety of ginger in the treatment of pregnancy-induced nausea and vomiting. Obstet Gynecol. 2005
Chaiyakunapruk N, Kitikannakorn N, Nathisuwan S, Leeprakobboon K, Leelasettagool C. The efficacy of ginger for the prevention of postoperative nausea and vomiting: a meta-analysis. Am J Obstet Gynecol. 2006
Panahi Y, Saadat A, Sahebkar A, Hashemian F, Taghikhani M, Abolhasani E. Effect of ginger on acute and delayed chemotherapy-induced nausea and vomiting: a pilot, randomized, open-label clinical trial. Integr Cancer Ther. 2012